Reflections on World Parkinson's Congress 2023: A Journey of Inspiration and Unity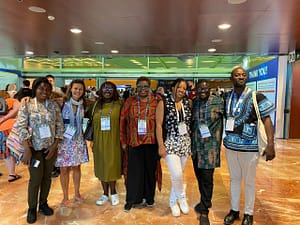 As a representative of the Adewunmi Desalu Parkinson's Foundation, my journey to the World Parkinson's Congress 2023 in the vibrant city of Barcelona, Spain was nothing short of a transformative experience. The four days spent immersed in a sea of knowledge, compassion, and shared dedication left an indelible mark on my heart. With the echoes of meaningful conversations and powerful insights still resonating within me, I am eager to recount my experience, highlights, and takeaways from this extraordinary event.
The congress was a vibrant platform that showcased not only the latest breakthroughs in Parkinson's research but also the strength of unity within the community. Attendees left with a sense of motivation to continue their efforts in improving the lives of those affected by Parkinson's. The diverse range of emotions mirrored the complexity of Parkinson's itself, reminding us that within the challenge, there's space for resilience and joy.
Bridging the Gap with Breakthrough Research
Among the many gems of knowledge shared, the unveiling of the 'brain-first body-first hypothesis' for subtyping Parkinson's was a beacon of hope. This ground-breaking discovery could potentially unlock personalized medicine approaches that cater to individual needs. The promise of more targeted treatments ignited a spark of optimism for the future of Parkinson's care.
Celebrating Holistic Care at ADPF
I felt immense pride in realizing that the Adewunmi Desalu Parkinson's Foundation (ADPF) stands at the forefront of a holistic approach to Parkinson's care. Our end-to-end Parkinson's intervention centre in Lagos, Nigeria, is a testament to our commitment to comprehensive support. This realization was a reaffirmation that our efforts are indeed making a tangible impact in the lives of those we serve.
Global Unity and African Representation
Throughout the congress, a resounding theme was the power of unity in addressing the global impact of Parkinson's disease. The stark contrast in care availability across regions, particularly in Africa where levodopa remains elusive in some countries, underscored the need for collective advocacy to ensure that every individual's needs are met, regardless of location.
Diverse Stories, Shared Journey
One of the most profound lessons was the intrinsic diversity of Parkinson's disease. Each person's journey is unique, with symptoms manifesting in distinct ways. This reality serves as a poignant reminder that the human experience is multifaceted, a tapestry of challenges and triumphs woven in different hues.
Energy, Connection, and Renewed Purpose
Amidst the sea of faces from around the world, connecting with individuals living with Parkinson's, their caregivers, and dedicated professionals was a profound experience. The energy and passion exchanged during these interactions fuel our determination to provide the highest standard of care to everyone in need.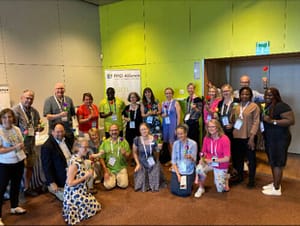 Caring for Caregivers and Vibrant Support Groups
In the caregivers' lounge, I engaged in heartfelt conversations about the universal challenges faced by caregivers. The significance of effective communication when tending to someone with Parkinson's was highlighted, along with practical strategies for encouraging loved ones to prioritize their health. The importance of self-care to prevent caregiver burnout served as a poignant reminder that caring for others starts with caring for oneself.
The support group roundtables were equally enlightening, unveiling an array of creative strategies from leaders worldwide. From assigning roles to celebrating milestones, these initiatives bolstered a sense of belonging. Co-hosting discussions about our hybrid support group in Lagos, Nigeria, showcased the power of engagement and interaction.
Holistic Wellbeing and Advocacy
Mr. Larry Gifford, Co-founder of PD Avenger's wellness toolbox was a treasure trove of wisdom. Cultivating community, self-awareness, movement, creative expression, mindfulness, advocacy, spirituality, and nutrition are all crucial facets of living a fulfilled life with Parkinson's. Larry's words echoed the importance of embracing what brings us joy and purpose, emphasizing that a holistic life promotes overall well-being.
Stigma, Representation, and Hope for Africa
Omotola Thomas, Founder of Parkinson's Africa's perspective on stigma in Africa was a poignant reminder of the complex intersection of culture and disease. Celebrating the growing representation of Africans in the conference was heartening, but Omotola's call for greater involvement in research and future conferences was a clarion call to action, igniting hope for change.
Advancements and Collaboration in Technology
The congress also showcased innovative technological tools, including medical-grade red light therapy devices designed to address Parkinson's, chronic pain, fibromyalgia, and gut health. These advancements hold promise for improving the lives of Parkinson's patients globally. The prospect of collaborating to make these advancements accessible to individuals living with Parkinson's in Nigeria filled me with excitement and determination.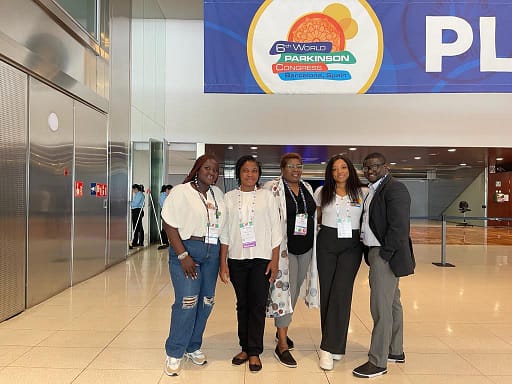 In summary, the World Parkinson's Congress 2023 in Barcelona, Spain was a transformative event that united the Parkinson's community globally. From ground-breaking research to caregiver support, diversity awareness to holistic wellness, the conference reaffirmed the commitment to improving the lives of those affected by Parkinson's. The energy, insights, and connections formed during these four days will undoubtedly propel the community forward towards better care, treatment, and understanding of Parkinson's disease. Many are already eagerly anticipating the next congress to continue the journey of progress and collaboration.