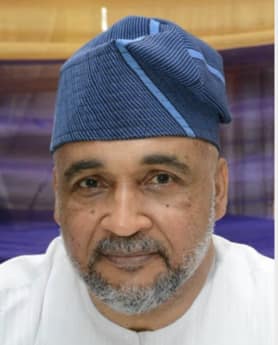 Contact ADPF:
+234 1 453 5909
info@desaluparkinsonsfoundation.org
Dr. Aderemi Desalu graduated with a Bachelor of Dental Surgery (BDS) degree from the College of Medicine, University of Lagos Teaching Hospital in 1986.
His multiple certifications and diplomas include a Certificate in Ethics from the Harvard School of Public Health, Boston, United States of America, a Diploma in HIV/AIDS Prevention from the College of Venereal Disease Prevention United Kingdom and a Certificate in Institutional Development from the Royal Institute of Public Administration (RIPA), London, UK.
A recipient of multiple commendations and awards for public and social service, he is also an alumnus of the Executive Program of the Harvard Kennedy School of Government, United States of America and a graduate of the Senior Executive Course of the National Institute for Policy and Strategic Studies, Kuru, Nigeria.
In 1999, he transitioned from the private sector into the public sector, when he was appointed the pioneer Executive Secretary of the Lagos State HIV/AIDS Foundation. Later in the same year, he was appointed the founding Chief Executive of the Lagos State AIDS Control Agency under the Chairmanship of the late Professor Olikoye Ransome-Kuti.
From 1999 until his retirement from public service in 2015, Dr.Aderemi Desalu has served Lagos State and Nigeria through his membership on numerous strategic government boards and committees, bilateral and multilateral programs with international partners such as the World Bank, and has volunteered his services as Advisor to a vast number of non-governmental organizations.
Dr. Aderemi Desalu is currently a Strategic Health and Development Consultant, and also the Chairman, Court of Governors of the College of Medicine, University of Lagos, Nigeria.